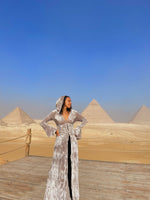 Who is Ra?
Inspired by ancient Egyptian culture, Ra is the God of the Sun. He is a symbol of life, light, and warmth. I want my Queens who wear my creations to feel embodiment of that power and energy. To feel like they are the Queens of the sun, radiating energy every day. Ra is also the shortened version of my middle name, Radia. These creations are an embodiment of me and my Egyptian culture, as my Egyptian ancestors are guiding me throughout this process. All of my pieces include some sort of symbol from Egyptian culture, whether its fabric or charms of ancient Egyptian symbols, as you wear a piece of my culture around with you. The key of life, which is included in a lot of my designs, is a symbol of protection in this life, and all the lives to come. All of my pieces have heavy symbolism involved from thousands of years of history, I hope you love wearing them as much as I loved creating them!
ALL one of a kind pieces for unique Queens
All of the pieces made are not only one of a kind, but also hand sewed items made with love, intuitively created and guided by my culture and ancestors. 
Let customers speak for us