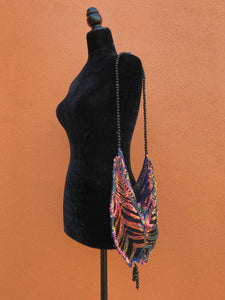 This rainbow tale purse is a cute little satchel to spice up your outfit. The strap is made with golden sheen obsidian. 
Obsidian is a naturally occurring volcanic glass formed in swiftly cooling lava, and is believed to be particularly suitable for scrying. It is also thought to be ideal for balancing energy fields and releasing the ego. The reflective nature of obsidian makes it one of the first stones used in self-reflective meditation, internal growth and self-understanding. The stone is not thought to give energy, but to help seekers discover where healing needs to happen.
If you would like a set like this or similar to this in a different size please inquire in the Contact Me section. 
So much fun!
This bag is so detailed, glamorous and fun. It's big enough to hold an iPhone and other every day needs. Note there is no zipper but it is sewed together in the middle so only the sides are open.